Current & Upcoming Events...
Tisa Batey interviewed Rob on February 4th 2021 @ 6 pm ET 
Tisa is an Author, Life Coach and Talk Radio Host.  Read more about Tisa on her website... thriverylifecoaching.com
Click here to watch on Facebook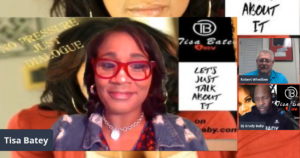 The episode "Unmasked" aired* Sunday, January 17th 2021 @ 9 pm ET on the ID channel.
"If you looked into the eyes of a killer, would you know it?
ID's American Monster interweaves twisting-turning stories of astonishing crimes with behind-the-scenes footage of killers at their seemingly, most innocent."
From the true-crime chronicle pages, Rude Awakening, American Monster takes a closer look at Lisa Whedbee, a pretty, petite wife and mother, whose soft voice and sweet demeanor cloaked her malevolent manipulations and murderous intent.
*Please checkout Investigation Discovery's American Monster webpage for viewing options:
Episode 7 "Unmasked" at... ID American Monster
An interview, with Rob, aired Wednesday - January 13th 2021 @ 6 pm ET on WBIR - 10News - Knoxville, TN
Rob was interviewed on 1/12/2021 by WBIR reporter Shannon Smith about the upcoming episode on Investigation Discovery's series American Monster. Watch interview at... wbir.com
Sheree and Rob are excited to announce we will be participating in:
Barnes & Noble's
Local Author Showcase
Saturday, February 8th 2020, 2-4 pm
Suburban Plaza
8029 Kingston Pike
Knoxville, TN
We'd love to meet our readers and talk about our new book Rude Awakening, a true crime thriller about a bizarre attempted murder/conspiracy case that occurred in Knoxville. It was a nationally publicized case, turning up in The LA Times, The Washington Post, The New York Times, People Magazine, and other well-known publications across the country. The crime was also featured on Oxygen's Snapped, City Confidential, Investigation Discovery, Hard Copy, and A Current Affair.
Come meet the author and the victim of the crime!
HOPE TO SEE YOU THERE!
Update: Heartfelt thanks to everyone that came by to meet us. We sincerely appreciate the warmth and support we received from the tremendous turn-out for this book signing event.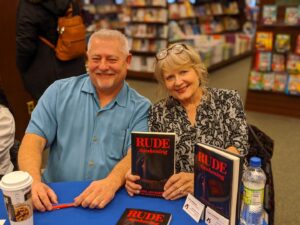 Sheree and Rob are excited to announce we will be participating in:
The Bob Yarbrough Show
Radio Interview
Wednesday, January 15th 2020, 11am-12pm
NewsTalk 98.7
Knoxville, TN
The Bob Yarbrough Show  -  Radio Interview  -  Aired January 15, 2020
You can listen to this interview on... audioboom.com